Manual Crushers YAMACHIPPER VR35-VR25-VR20
YAMASTIK presents the YAMACHIPPER VR35, VR25 and VR20 Heavy duty manual branch crushers. They are offered for professional use for crushing needs in the field of forestry , garden maintenance or decoration, tree or vegetable cultivation, production of material for animal feed, fuel and others.
Designed with many advantages for easy use, transport, storage and access for control and maintenance of all parts, they offer high performance and repeatable productivity in long hours of use.
VR35 HEAVY DUTY BRANCH CRUSHER
The large hopper with dimensions of 80X60X96 cm in combination with the long length of the 35 cm blades offer the comparative advantage of all shredders in the easy penetration and shredding of large and twiggy branches. It can shred fresh soft branches up to 9 cm in diameter, dry and hard branches up to 6 cm in diameter, and the shreds created are 1-3 mm chips suitable for easy and quick assimilation into the soil.
VR25 HEAVY DUTY BRANCH CRUSHER
It has a fairly large hopper with dimensions of 70X60X96 cm and 25 cm long blades that ensure that it will meet the crushing needs of all types of trees, with easy penetration of branches without pushing. It can shred fresh soft branches up to 8 cm in diameter, dry and hard branches up to 5 cm in diameter, and the shreds created are 1-3 mm chips suitable for easy and quick assimilation with the soil.
VR20 HEAVY DUTY BRANCH CRUSHER
Flexible and extremely fast crusher, small size with high performance. Large hopper with dimensions 60X50X96 cm and blades 20cm long. Suitable for branches from all trees and special for vegetables, fruits and other wet materials. It can crush fresh soft branches up to 7 cm in diameter, dry and hard branches up to 5 cm in diameter, and the crumbs created are 1-3 mm chips suitable for easy and quick assimilation with the soil.
BRANCH CRUSHER IN A TRACTOR
It is available with petrol engines from 13-22 HP. The trailer is certified with registration and is made of galvanized sheet metal with dimensions 1,50mX1m or with dimensions of your choice. The crusher base is bolted to the trailer chassis with special anti-vibration rings to prevent vibrations being transferred to the trailer and creating noise.
DURABLE AND ROBUST CONSTRUCTION
In addition to the very durable blades, rotor and rotor shaft, only heavy duty bearings and bushings of the German company FAG are used, which ensure uninterrupted continuous operation and longer machine life. The frame of the YAMACHIPPER crushers is built to have high rigidity during use or transport and they are the only crushers where the motor is mounted on a special base with a tilting system for belt tensioning, vibration absorption and easy motor oil changes.
Specifications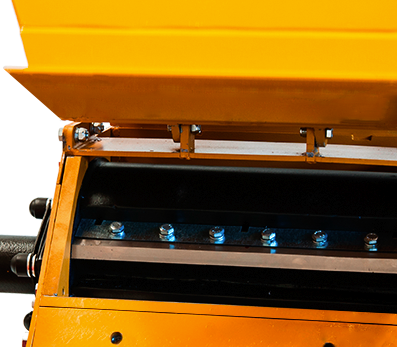 HIGH QUALITY SCALES
The YAMACHIPPER branch shredders consist of two rotating blades and a fixed blade made of special steel and with a specific hardening throughout their mass to achieve the maximum time of use without sharpening. Additional advantages of the blades are their long length with multiple cutting points. They are also sharpenable and adjustable, resulting in a much longer service life than shorter blades or reversible surface hardening blades.
MAXIMUM SAFETY OF USE
YAMACHIPPER branch crushers are certified and carry a CE declaration of conformity in accordance with all European directives and safety standards for these machines. Among other things, they are equipped with a safety curtain for any pieces that may return and an emergency switch for immediate shutdown if necessary.
USABLE AND FUNCTIONAL
The YAMACHIPPER branch crushers are ergonomically designed and perfectly balanced to be easily moved by one person around the property. The clever handles on the infeed hopper and the steering wheel on the engine side enable easy movement wherever the operator is around it.
ROTATING EXIT
The rotating outlet system of the YAMACHIPPER VR35 and VR25 shredders offers the advantage to the operator to control directly and without any tools the direction of the shredded branches. Thus, easily the material can be directed directly to specific points within the property, on the back of a farm car or wherever it may serve.
ENGINE
Available with most of the reliable gasoline engines of the market such as SUBARU, LONCIN, HYUNDAI etc. from 13HP and above. Selectively the engine can be equipped with an automatic starter in combination with a battery and key in the starter switch.
CURATOR
Another advantage of the YAMACHIPPER VR35 and VR25 crushers is the installation of an instrument to measure the time of engine use. This serves in many matters concerning the correct operation of the machine and maintenance times.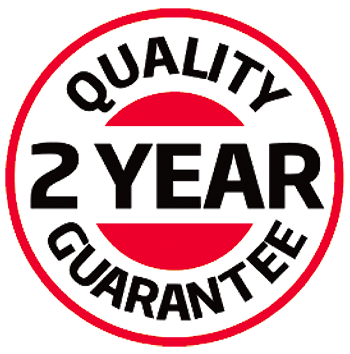 GUARANTEE OF GOOD OPERATION
After more than 30 years in the field of machinery manufacturing, with confidence in the quality of our products, we offer a 2-year warranty on all products.
CERTIFICATES YAMASTIK
The Yamastik factory, in VI.PE. Heraklion, Crete, ensures that it is always in compliance with the European and Greek legislation. In order to ensure the excellent quality and operation of the products, continuous and strict quality controls are carried out. The company applies CE system in all its products and is certified with ISO 9001 for Production Processes, Quality Control and Product Safety.
Technical Specifications
LEPIDES mobile/shortwave

2 reversible javelins /1 reversible

INLET HOPPER DIMENSIONS

W x H x W - VR35: 80 x 60 x 96 cm - VR25: 70 x 60 x 96 cm

CUTTING WIDTH

350 mm

MAXIMUM DIAMETER OF SOFT BRANCHES

90 mm

MAXIMUM DIAMETER OF HARDWOOD BRANCHES

60 mm

SCRAP THICKNESS

1-3 mm

PERFORMANCE

1500-5500 Kg/h
ENGINE TURNS

3600 rpm

REQUIRED STRENGTH

13-22 HP

ENGINE

Subaru 14hp, Loncin 13hp, GT 16hp

AUTOMATIC START-UP MIX

Possibility of choice

SELF-MOVEMENT SYSTEM

No

DIMENSIONS

M x W x H : 180 x 88 x 138 cm

WEIGHT

170 kg